Broken Arrow Video Surveillance Installation
Surveillance systems are a great way to keep an eye on your home or business. They can deter crime and allow you to keep tabs on what's going on when you're not there.
However, all of these benefits can quickly become obsolete if the system isn't installed properly: You could end up with blind spots, obstructed views, or camera malfunctions that render your system ineffective if you don't know what you're doing.
Because of this, it's best to leave the video surveillance installation to the professionals, and the experts at Tulsa Surveillance Tech are some of the best around.
Why Get Professional Broken Arrow Video Surveillance Installation
There are several benefits to having the professionals at Tulsa Surveillance Tech install your video surveillance system for your Broken Arrow home or business. These include but aren't limited to:
Ensuring the system is installed correctly the first time around. This saves you time, money, and frustration in the long run.

Avoiding any blind spots or obstructed views. Our experts know how to look for obstacles that could block important angles for your surveillance system.

Getting expert advice on which type of surveillance system would be best for your needs. This way, you won't end up paying more than you need to or leaving your property vulnerable with a system that isn't comprehensive enough.

Confirming that all of the system parts are compatible. This is critical to ensuring that your surveillance system works correctly and doesn't give you any headaches down the road.
The professionals at Tulsa Surveillance Tech have years of experience installing surveillance systems in a wide variety of homes and businesses, so you can rest assured that your property is in good hands.
What to Expect From a Broken Arrow Video Surveillance Installation
When you contact Tulsa Surveillance Tech for your Broken Arrow video surveillance installation, one of our experts will come to your property to assess your needs. They'll take into account the size of the area you need covered, what type of surveillance system you're looking for, and any unique challenges that might be present.
Once they have all of the information they need, they'll put together a customized plan for your Broken Arrow video surveillance installation. This plan will take into account everything from the type of system you need to the number of cameras required to cover your property effectively.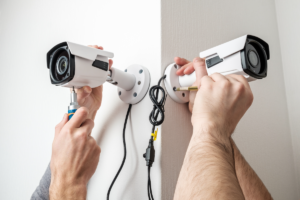 Once you've approved the plan, our experts will get to work on your Broken Arrow video surveillance installation. Once the installation is complete, our experts will go over the system with you to make sure you know how to use it and that you're happy with the results.
After that, we'll stay in touch so we can help you troubleshoot any issues that may come up down the road and install any necessary updates to keep your system operating as effectively as possible.
If you're looking for professional Broken Arrow video surveillance installation services, look no further than Tulsa Surveillance Tech. Contact us today to get started — we look forward to helping you protect your property!